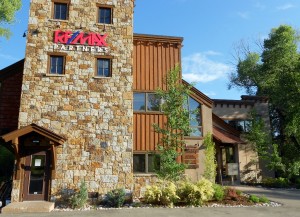 RE/MAX Partners is a full-service real estate brokerage firm located in the heart of Steamboat Springs. Our new office in Steamboat sits on scenic Fish Creek, in between town and the mountain. We have 40 years of worldwide branding behind us. Today, the RE/MAX network has nearly 90,000 agents and more than 6,000 offices in over 85 countries. Broker/Owners Kimberly Kreissig and Stephan Baden, both long-time area residents, have a combined 43 years of experience in real estate and in depth knowledge of the Steamboat and Routt County markets.
Kreissig and Baden have a wide background of experience in residential and commercial real estate sales and investment property, including second home sales. Both have been involved in home construction and development and Kreissig and her husband also run a successful development/construction company. In addition, Kreissig has been awarded her Graduate Realtor Institute (GRI) designation and Certified Negotiation Expert (CNE). Baden holds a GRI designation, as well as, the Certified Residential Specialist (CRS) designation.
"Our philosophy is simple: we want to have long term relationships with our customers. So, we always put them first," said Kreissig. "Our agents are experienced, full-time real estate professionals who can provide local knowledge you can count on. The global RE/MAX network affords us greater competitive reach to prospective buyers outside Steamboat Springs, which comprise a majority of the transactions."
RE/MAX Partners is located in the beautiful Fish Creek Office Building, immediately off Highway 40 (Steamboat's main thoroughfare). We are equi-distant from the base of Mt. Werner (our ski mountain) and Steamboat's "Old Town", the city's historic downtown. We welcome you to stop by and visit!
155 Anglers Drive, Suite 200 | Steamboat Springs, CO 80487
o970.879.SOLD (7653) | 888.660.8999 | f 970.879.0965
info@SteamboatRealEstatePartners.com
RE/MAX is Main Street, Not Wall Street.
Founded in 1973, in Denver, Colo., by Dave and Gail Liniger, who still lead the network today.
Created by agents, not investors, and focused on raising the standards of professionalism and training.
An industry innovator always emphasizing training. Among the first to emphasize agents becoming trained to help homeowners facing foreclosure.
Among the first to give consumers access to all property listings in each multiple listing service, including the competition's.
Nobody Sells More Real Estate than RE/MAX.
Nearly 90,000 agents in over 85 countries, a greater worldwide presence than any of competitors.
RE/MAX Associates average more real estate sales experience than other real estate agents.
RE/MAX leads the industry in professional designations. These denote additional training in working with buyers and sellers with various needs.
RE/MAX is the Most Recognized Name in Real Estate.
RE/MAX has the largest share of voice in national TV advertising.*
remax.com is the most visited real estate franchise website with more than 48 million visits annually.**
When consumers find real estate online, "remax" is the most used search term among real estate brokerages.***
The RE/MAX Hot Air Balloon fleet is the largest corporate balloon fleet in the world.
RE/MAX Agents Give Back to the Community.
RE/MAX agents have donated more than $115 million to Children's Miracle Network Hospitals since 1992.
RE/MAX is a national sponsor of the Susan G. Komen Race for the Cure Series and has partnered with the organization in fighting breast cancer since 2002.
RE/MAX agents have been recognized for their community service through the National Association of Realtors' Good Neighbor Award program.
*Source: Nielsen Monitor-Plus / A25-54 GRPs Unequivalized for 2011.
**Source: Compete.com, Hitwise, ComScore for 2011.
**Source: Hitwise for 2011.