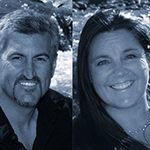 Broker Associates
Office: (Diane) 970-846-9006
Cell: (John) 970-846-0797
DiJames@JamesTeamSteamboat.com
JohnJames@JamesTeamSteamboat.com
John and Diane James are "The James Team". This powerful duo covers every aspect necessary for successful real estate transactions.
John
A Steamboat resident since 1992, John is a very active member of the community. Since 1996 he has taught snowboarding at the Steamboat Ski Area. In 2007, he transferred his love for Steamboat into real estate, to help people find homes in the Yampa Valley. John is an innovative marketer and utilizes the best technology has to offer to engage clients and promote listings.
Phone: 970-846-0797
Email: JohnJames@JamesTeamSteamboat.com
Diane
Since 2001, prior to her profession as a Realtor, Diane had been an escrow closer for title companies in Steamboat Springs. Her in-depth knowledge of real estate transactions and market conditions bring tremendous value to her buyers and sellers. Diane's incredible ability to connect with people lets her completely understand what they want and need.
Phone: 970-846-9006
Email: DiJames@JamesTeamSteamboat.com
Together, John and Diane leverage the strength of the RE/MAX brand to make the next chapter of peoples' lives that much easier. Do not hesitate to call them for any real estate need!